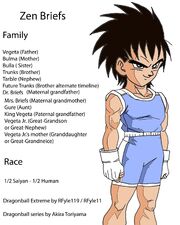 This article, Zen (RFyle11), is property of RFyle11.
Zen is a half human / half sayian in Dragonball Extreme.
Background
Edit
Zen is the second son of Vegeta and Bulma , brother of Trunks and Bulla / Bra . He is a half human / half sayian and he can reach levels of super saiyan. His personality is like Vegeta because he acts competitive and arrogant and a little Bulma's personality because of his intelligences. He's a bit shy and has a kind side whever he sees anyone or anything hurt and bullied. He's a rival to Geki and Kohan.
Forms / Transformations
Edit
Super Saiyan
Super Saiyan 2
Special Abilities
Edit
Final Flash
Burning Attack
Final Ultimate Attack (Like Vegeta's Final Shine Attack)
Beat Rush
Zen is the only child with black hair because Trunks and Bulla / Bra had different colored hairs (Thanks to Bulma).
Zen is similar to Vegeta .Jr and Kid Vegeta.
Ad blocker interference detected!
Wikia is a free-to-use site that makes money from advertising. We have a modified experience for viewers using ad blockers

Wikia is not accessible if you've made further modifications. Remove the custom ad blocker rule(s) and the page will load as expected.