This article, Raditz (DBAF), is property of AWF4life.
The evil Raditz will return to destroy his younger brother Goku, (Kakarot) he will transforn into a ssj to defeat Goku, (Kakarot) but the Z-fighters are ready for everything that raditz is bringing. Raditz is shocked that prince Vegeta is apart of the z-fighters now and has already transformed into a super saiyan, he also finds out that Goku has turned into a super saiyan also, but he is amazed that his nephew Gohan is all grown up and has became super saiyan two. Raditz transform into a ssj2, surpassing his former ssj state, and yet the batte is to come! So will Raditz be able to beat the Z-fighters knowing that Goku, Vegeta, Trunks and Gohan are super saiyans?! Find out on the next episode of Dragonball: the return of great villans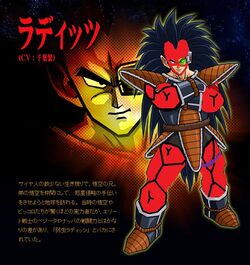 Warp Star Dragonball Saga

---
Raditz Returns In The next Saga To Help Goku, And The Z Fighters Find The Warp Star Dragonballs, Goku Said if He Helped Find All Of Them He Would be brought back To Life By The Earth Dragonballs.