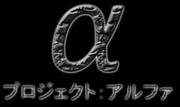 Created By DaveyG1986
Project: Alpha Saga Takes place in the year 2017. This is the 5th Saga in Dragonball Omega
After the Heroes Saga, Deivii, Maiku, Danii and their master Hitsurgui carried on training. Meanwhile an evil scientist found fragments on DNA left behind by the Evil Alliance. What could this mysterious new enemy be planning.
Chapters
Edit
Characters
Edit
This is the list of characters that are in the Project: Alpha Saga
Main Characters
Edit
Villains
Edit
Ad blocker interference detected!
Wikia is a free-to-use site that makes money from advertising. We have a modified experience for viewers using ad blockers

Wikia is not accessible if you've made further modifications. Remove the custom ad blocker rule(s) and the page will load as expected.