This article, Neo Super Saiyan (Dragon Ball Z: Reincarnation), is property of Lord-Sicarius..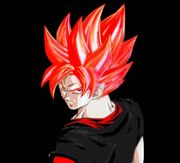 Neo Super Saiyan is a variation of Super Saiyan. It's skills match up with a Super Saiyan 4's. However, this form is only achieved by a certain number of people.
Variations
Edit
Ascended Neo Super Saiyan
Full Power Neo Super Saiyan
Description
Edit
The Neo Super Saiyan is hard to achieve. It takes intense training. Perhaps, even in a fusion. The first person to achieve Neo Super Saiyan is Artimus. Neo Super Saiyan allows you to absorb a beam, and recast it even more powerful, like a Neo Kamehameha. [RobEqualsRawr created this, my younger brother]
Ad blocker interference detected!
Wikia is a free-to-use site that makes money from advertising. We have a modified experience for viewers using ad blockers

Wikia is not accessible if you've made further modifications. Remove the custom ad blocker rule(s) and the page will load as expected.