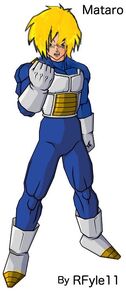 This article, Mataro (RFyle11), is property of RFyle11.
Mataro is a saiyan character on Dragonball Extreme.
Background
Edit
Mataro is a full-blooded sayian from the new planet vegeta. He had an younger brother named Hansuke and they work together to fight. He traveled to earth with Hansuke to meet Vegeta, Goku because they know they are the only sayians survied the destruction of the original planet vegeta. They also know Goku is the strongest warrior in the universe because he defeated Frieza. Mataro reached the level of Super Saiyan.
Appearence
Edit
Mataro had short spiky hair (Black), with scar on his right eye. He's wearing an saiyan armor with gloves and boots.
Transformations and Forms
Edit
Super Saiyan
Full Powered Super Saiyan
Super Saiyan 2
Special Abilities and Techniques
Edit
Power Beam
Power Flash
Energy Wave
Mataro's saiyan armor is very silimar to Vegeta's (Bulma Made)
I originaly created Mataro to have yellow hair and it's not like a Super Saiyan transformation. So I changed his hair colour into black and his hair will change after he transformed into a Super Saiyan.
Ad blocker interference detected!
Wikia is a free-to-use site that makes money from advertising. We have a modified experience for viewers using ad blockers

Wikia is not accessible if you've made further modifications. Remove the custom ad blocker rule(s) and the page will load as expected.