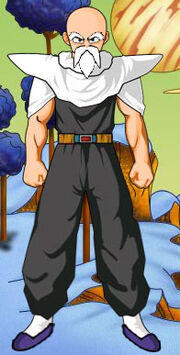 Hitsurugi is a fictional character created by DaveyG1986 for the FanFic Dragonball Omega.
Name: Hitsurugi
Race: Human
Year of Birth: 1939AD
First Appearance: Dragonball Omega Chapter 1
Family: None
Hitsurugi is a 70 year old Martial Arts master and former 10 times Tenkaichi Champion. Winning his first tournament at the age of 7, he rapidly became the worlds best Martial Artist. After his 10th title he became a recluse, living in the mountains west of West City. When Deivii first came to seek his help in training he refused, but when Deivii wouldn't leave he decided to test him hoping that he would fail. He sent Deivii to build him a new house in 3 days or he wouldn't train him. When Deivii managed to build him a 3 story house in just 2 days, Hitsurugi was impressed and began training him. When the 339th Tenkaichi Tournament came round, Hitsurugi entered Deivii. Deivii reached the final against Maiku, which he won, and Maiku became Hitsurugi's new student.
Ad blocker interference detected!
Wikia is a free-to-use site that makes money from advertising. We have a modified experience for viewers using ad blockers

Wikia is not accessible if you've made further modifications. Remove the custom ad blocker rule(s) and the page will load as expected.