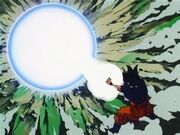 The Hameha is the Kamehameha with out the Kame, and it more powerful. The inventors of the Hameha are Gohan and Piccolo. They owned the most effective Martial Arts Training School. Gohan wanted to teach the students the Kamehameha but Piccolo told Gohan that that was invented in the Turtle School and they should change the name, Gohan had an idea he told Piccolo that the Kame in Kamehameha meant Turtle, so they should just take the Kame out, and then came the Hameha. So then it meant just destruction wave.
Users of the Hameha
Edit
Gohan
Piccolo
Raditz Jr
Goten
Pan
Hercule
Android #32
Other Hameha's
Edit
Kaiohameha
Super Hameha
Ultimate Hameha
Trsuhameha
Kaiohameha
Edit
This was created by King Kai when Gohan died and Gohan wanted to create a more powerful Hameha.
Users of the Kaiohameha
Edit
Gohan
Goku
King Kai
West Kai
Supreme Kai
Goten
Master Roshi (after extreme traning after death)
Super Hameha
Edit
It is used after doubling your power level.
Users of the Super Hameha
Edit
Goku
Gohatenks
Piccolo