Hail is the main antagonist of Cosmic Emperor Saga in Dragon Ball LX. He is the son of Snow , the third son of King Cold before he died. He is the nephew of Frieza and Cooler, and grandson of Queen Cold and King Cold. Snow was a very powerful being, power level spiking up to 1,000,000 ,000,000,000 max. He was easily killed and defeated by the Z-Fighters in Dragon Ball LX: Galactic Battles. So, Hail came to Earth to kill Z-Fighters.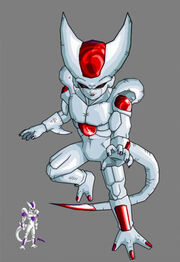 Ad blocker interference detected!
Wikia is a free-to-use site that makes money from advertising. We have a modified experience for viewers using ad blockers

Wikia is not accessible if you've made further modifications. Remove the custom ad blocker rule(s) and the page will load as expected.