This article, Gaia, is property of Hughdo.
Gaia was born far, far after Goku died, on a far off planet, where the age is a rather obscure number that few people ever find, due to the absolute seclusion of the area. She believes that her birth may have been during aproximately age 900.
Abilities
Edit
Gaia is a female clone of (out of all people to have their DNA saved) Bra, Trunks' younger, and much less combative sister. (Bra was, anyway.) Raised from birth by a group of warriors on a small planet, which effectively functioned as a large dojo, she has both the fighting skill of Goku and the prodigious genius of Bulma. She keeps herself permanently in Full Power Super Saiyan form, and has augmented her body with mechanical aides to add power to her movements and attacks.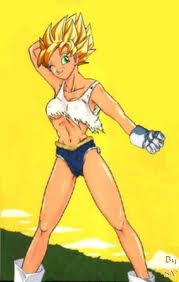 Ad blocker interference detected!
Wikia is a free-to-use site that makes money from advertising. We have a modified experience for viewers using ad blockers

Wikia is not accessible if you've made further modifications. Remove the custom ad blocker rule(s) and the page will load as expected.