This article, Dragon Ball Z Special: Combined Power, is property of Bardock..
*Far away from the Earth on a dark planet.*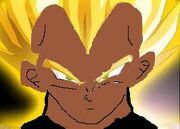 Yes... I finally did it... YES! AFTER ALL MY TRAINING DID WORK! I KNEW I COULD DO IT! I FINALLY SURPASED KAKAROT! I, VEGETA, THE PRINCE OF ALL SAIYANS HAS FINALLY BECOME A SUPER SAIYAN!!! hahahahah! I always knew I could do it!
And now, I'm going to start my plan! Hahahahaha!!
*Meanwhile at goku's place back on earth a few days later*
Let's train! Goku happily to Gohan and Piccolo said after he had eaten like 20 rice dishes as dinner. Chi-Chi, Gohan and Piccolo looked at him with weird faces. Well, I guess that's a good idea Goku, let's go! The 3 went outside to train, fortunately it was good weather. Oke, we had a lot of combat training now and I think it would be a good idea to show what we learned now! What if
Gohan and I team up against you Goku? That would be fair, since you're still stronger then us. Piccolo said. I'll do my best Mr. Piccolo! I'll show what my training paid of! That's a good fightning spirit gohan! I'm proud of you! Piccolo replied. Goku had a happy smile on his face. Well, that's fine with me. let's begin! ZAP! Sounded in the middle of the 3 fighters. Kami and Mr. Popo appeared. Hello my friends, I've got some news. Kami said. What's wrong Kami? Gohan said with a suprised face. There have been taken away 4 dragonballs, and I'm having the feeling someone is trying to gather them all to make a wish. Could I please ask you three to find out what's going on here and stop the one who gathers them if he/she has evil plans? Maybe you could use Bulma's dragon radar. We'll help old men, but remember I will only do this to stop this person making a wrong wish, and not for you. Piccolo seriously said. Thank you Piccolo. Kami replied. You're not alone Piccolo, we will help won't we dad? Of course Gohan! Goku said back. Well then, fine you guys help me, but I suggest we begin tomorrow, it's very late already. Good idea piccolo. Mr popo said. Everyone needs his rest. Oke, then lets sleep now, we'll begin tomorrow! Goodbye Kami and Mr. Popo! Goku said. After that they went to Goku's house again and begun to sleep, because, a new adventure would begin tomorrow for them...
*The next morning*
This story plays in the time the Z-fighters are training for the androids.
If you want to shorten the name of Dragon Ball Z Special: Combined power, just call it db-cp for short.
In This story, Future Trunks stayed at Bulma's place and trained with Vegeta at the gravity room.
Ad blocker interference detected!
Wikia is a free-to-use site that makes money from advertising. We have a modified experience for viewers using ad blockers

Wikia is not accessible if you've made further modifications. Remove the custom ad blocker rule(s) and the page will load as expected.