The information on this page, Cuber, is not up to date and is entirely subject to change. Outdated information remains on this page solely for archival purposes, should it be of use to Hyper Zergling in the future.

Cuber (キュバー) is a Saiyan who survived the Saiyan genocide. His name is a pun on the word "cucumber".
Biography
Dragon Ball: The Great War
During a montage section in the seventh chapter of this story, Dogom and Aubere were seen holding their newborn baby boy. This boy was Cuber.
Near the beginning of the eleventh chapter, Aubere was seen watching her husband Dogom train with their young son, Cuber. Since Cuber was so young, Dogom was not training him very hard. Near the end of this chapter, during a montage scene, Dogom and Aubere were shown holding their newborn baby boys (twins), Speonitch and Kailon. Each parent held one child in their arms. Cuber was shown to be with them in that scene.
Frieza's betrayal
Mrov
Yuki
Amoon
Ascension
Personality
Special Abilities
Energy Based attacks
Physical Techniques
Speed and movement Techniques
Other appearing techniques
Transformations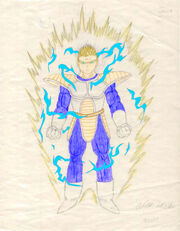 Trivia
Ad blocker interference detected!
Wikia is a free-to-use site that makes money from advertising. We have a modified experience for viewers using ad blockers

Wikia is not accessible if you've made further modifications. Remove the custom ad blocker rule(s) and the page will load as expected.