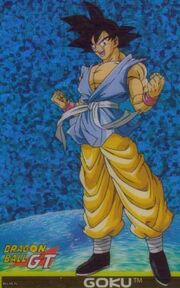 Goku was born on Planet Vegeta. His original name was "Kakarot." He was discovered by Grandpa Gohan. Grandpa Gohan raised him and named him Goku.
TransformationsEdit
Kaioken
Super Saiyan
Super Saiyan Two
Super Saiyan Three
Super Saiyan Four
Abilities:Edit
Kamehameha
Dragon Fist
Super Kamehameha
10x Kamehameha
Black Kamehameha
Super Dragon Fist
Spirit Bomb
Ad blocker interference detected!
Wikia is a free-to-use site that makes money from advertising. We have a modified experience for viewers using ad blockers

Wikia is not accessible if you've made further modifications. Remove the custom ad blocker rule(s) and the page will load as expected.